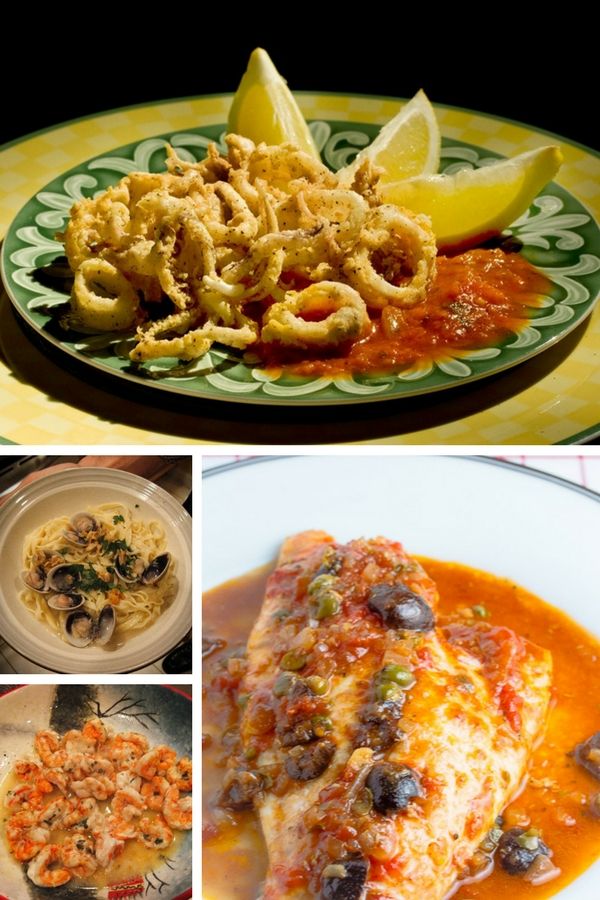 It is a tradition with many Southern Italian families to celebrate Christmas Eve with an elaborate fish banquet, Il Cenone di Vigilia. Sometimes referred to as The Feast of the Seven Fishes, not everybody sticks to exactly seven; some go up to 11 or 12, predominantly shellfish. This tradition actually started out as a gesture of abstinence, not eating meat, but over the years it took on a life of it's own, and morphed into something quite the opposite. Many people eat better this night than they do all year long.
My own Christmas Eve dinner is pretty scaled down compared to most. Not because I am trying to stick to the original ideal of abstinence or anything like that. Rather, my allergy to shellfish cuts down on my options, and I usually have a feast of one fish, Red Snapper Livornese. So, for this menu, I decided to consult with a family member who still goes all out for Christmas Eve, my cousin Sal.
Sal was very excited to discuss his feast with me and got right into the menu. "I start off with Fried Calamari," he detailed. "My trick is mixing equal parts all purpose and semolina flour for the batter. The semolina gives it a really nice texture." In addition to the calamari, his menu includes shrimp, clams, mussels, crab and his show-stopping main course, Stuffed Lobster. Enjoy and have a happy and healthy Holiday season.
Italian Christmas Eve Dinner Menu
Antipasti
Fried Calamari
Clams and Mussels Posillipo
Shrimp Scampi
Clams Oreganato
Insalata Frutta di Mare
Primi
Linguini White Clam Sauce
Linguini with Blue Crab Sauce
Spaghetti Alla Rosinella
Secondi