Beef Braciole, stuffed beef rolls slowly simmered in tomato sauce, are Italian comfort food at it's best.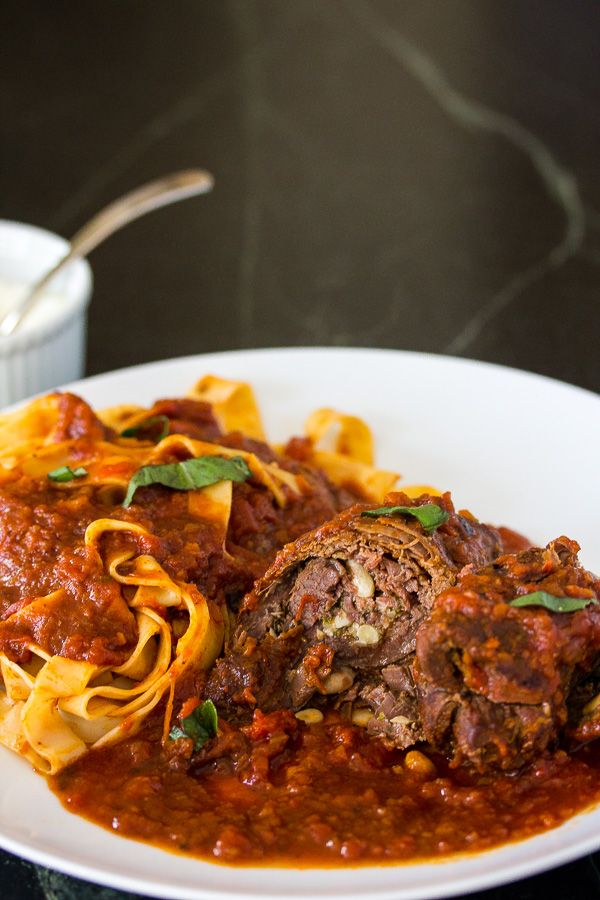 Beef Braciole is classic Italian comfort food and a great dish to make on a wintery Sunday afternoon. Stuffed beef rolls, simmered slowly in tomato sauce so the flavors from the stuffing infuse the sauce and the meat becomes fork tender, all while filling your house with the sweet smell of Italian Sunday dinner! My father used to serve this at the restaurant with Ricotta Gnocchi on the side, but any pasta you like will do. Just toss the pasta or gnocchi with some of the sauce from the braciole and serve it right along side. Perfection!
This is not a new recipe, I have had Beef Braciole on this site from close to the beginning back in 2000. I am revisiting it here to add a picture and tweak the recipe a bit based on more experience making it. I mention this because I will never forget the first time I saw a big spike in traffic for The Italian Chef. Back then I used to rank pretty high on all of the search engines for certain recipes and Beef Braciole was one of them. One day I noticed a huge spike in traffic, and most of it was people visiting the Braciole recipe from search engines.
"Why are so many people all of a sudden searching for Braciole recipes", I wondered? So, I put my internet slueth hat on and dug in for some research. After a bit of searching around I figured it out! The night before, the TV show Everybody Loves Raymond aired the episode "Debra Makes Something Good", which was about Debra making Braciole, everybody loving it and it driving Marie crazy. Seems it sparked a lot of interest in the dish, causing people to Google queries like "What is braciole".
I always got a kick out of that, and for a few years after I would occasionally see a (much smaller) bump in traffic to the recipe and would check to see if that episode played in syndication somewhere, and that usually was the case. It would be great if the writer's of This is Us could do a Tortellini alla Panna episode…
Print
Beef Braciole Recipe
---
Total Time:

2 hours 30 mins

Yield:

4

1

x
Description
Beef Braciole, stuffed beef rolls slowly simmered in tomato sauce, are Italian comfort food at it's best.
---
1

lb boneless beef round, cut into

4

thin slices approximately 1/3 inch thick

4

slices of prosciutto

1 tablespoon

pignoli beans(pine nuts)

2 tablespoons

grated pecorino romano cheese

2

garlic cloves, chopped

2 tablespoons

parsley, chopped

2 tablespoons

olive oil

1

medium yellow onion, chopped fine

2

carrots, peeled and chopped fine

2

celery stalks, chopped chopped fine

1 cup

dry red wine

2

28oz cans imported Italian tomatoes

2

bay leaves

3

fresh basil leaves, torn into small pieces
flour spread on a plate for dredging
salt & pepper to taste
---
Instructions
Place each slice of beef between 2 sheets of plastic wrap and pound with a meat pounder until 1/4 inch thick. Sprinkle with salt & pepper. Lay a slice of prosciutto on each one.
Mix together the the pignoli beans, pecorino romano cheese, garlic and parsley and sprinkle evenly on top of the beef slices with prosciutto. Roll up the slices, tucking in the ends and tie with kitchen string.
Heat the olive oil in a large sauce pan over medium heat. Dredge the braciole in flour shaking off any excess, then place in the pan. Cook until browned on all sides, about 15 minutes. Remove from pan with a slotted spoon and keep to the side.
If needed add some more olive oil to the pan then add the onion, carrots, and celery. Cook, stirring until tender but not browned, about 10 minutes.
Add the red wine and cook, stirring up any browned bits stuck to the bottom of the pan until reduced by half, about 2 minutes.
Crush the tomatoes with your hands and add, with their juices, into the saucepan. Fill one of the tomato cans 1/2 way with water and pour in. Add the bay leaves and season with salt and pepper.
Place the braciole back into the sauce, turn heat to low and cook at a simmer until beef is tender 1.5 – 2 hours.
Sprinkle the basil over the rolls, and cook for 2 minutes longer. Transfer to serving plates, spoon the sauce over the top and serve at once.
Prep Time:

30 mins

Cook Time:

2 hours