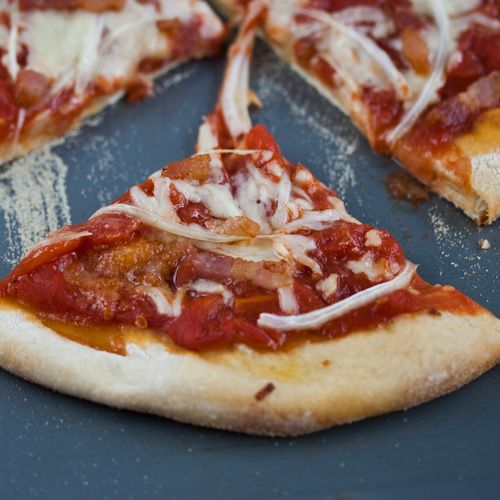 I have never taken part in a blogging challenge or event before, but when I heard about Charcutepalooza, I knew I had to participate. Charcutepalooza is the brainchild of two food bloggers, Mrs. Wheelbarrow and The Yummy Mummy. Each month for a year they pick a recipe from Michael Ruhlman's excellent book, Charcuterie
, and the participating bloggers, try that recipe and blog about their experiences. Charcuterie is one of my favorite cookbooks of all time so this was a no-brainer for me.
The first topic was Duck Prosciutto in January, but I found out about this challenge too late for that. However, I hope to circle back some time during the year and try the duck prosciutto.
For February the topic is the salt cure. You can choose from one of two challenges: The Apprentice which is fresh bacon, or the Charcuterie Challenge, pancetta or guanciale. I choose bacon, and to be honest it felt like a bit of a copout for me at first. I have been curing and smoking my own bacon for years now, since i first bought Ruhlman's book. I have even posted about it on his blog, here and here. Ideally, I would take this opportunity to expand my horizons and try the pancetta or guanciale. However, logistical reasons and time constraints prevented me from going that route for now (I know… excuses, excuses).
So I started this out a little disappointed in myself since not only was I going with the bacon, but I was not even smoking it, because my smoker is buried under 173 inches of snow right now! My disappointment quickly faded because, you know, I was making fresh bacon at home dammit! And I was going to use it to make Bacon and Onion Pizza, which would be awesome.
Curing bacon is actually pretty easy. The hardest part is probably procuring the pork belly itself. Once you do have the belly, you just dredge it in the salt cure ( kosher salt, pink salt and sugar), put it in a large ziploc bag and refrigerate for 7 days, turning it ever other day to redistribute the cure. After a week you rinse it off, pat dry and roast it low and slow at 200 degrees in the oven for a few hours until the internal temperature is 150, and you have the most delicious fresh bacon.
Years ago, my wife, Sandy, turned me on to Pizza with Bacon and Onions. Not being your traditional Italian pizza topping, it never would have occurred to me, but once I had it it became part of my regular rotation. I was really excited about taking nice thick slabs of homemade bacon, cutting it up into lardons and topping my pizza with it and some thinly sliced sweet onion. I was definitely no longer disappointed, the crispy chunks of bacon with their rich pork flavor really do make a perfect pizza topping.
Print
Bacon and Onion Pizza Recipe
---
4

slices of thick cut bacon, cut crosswise into

1/4

inch strips

1

28 oz can of imported Italian plum tomatoes
salt and freshly ground pepper to taste
freshly grated Parmigiano-Reggiano cheese

1/4

pound shredded mozzarella cheese

1/2

medium onion, thinly sliced
extra virgin olive oil

2

balls of Neo-Neopolitan Pizza Dough
---
Instructions
hour before baking, place a baking stone on the bottom shelf of the oven and preheat the oven to as high as it will go.
In a medium skillet over medium heat, cook the bacon until crisp. Remove with a slotted spoon and place on paper towels to drain.
Place the tomatoes in a bowl and crush with your hands. Stir in the salt and pepper.
Take one ball of dough and flatten it out to 10-12 inches in diameter, for detailed instructions click here.
Spoon on the the crushed tomatoes, sprinkle on grated Parmigiano-Reggiano and mozzarella cheese, place onions and cooked bacon on top, drizzle with a little extra virgin olive oil and transfer to oven on top of stone.
Cook for 10-12 minutes, until crust is deep golden brown. Remove from oven and repeat process with second ball of dough.