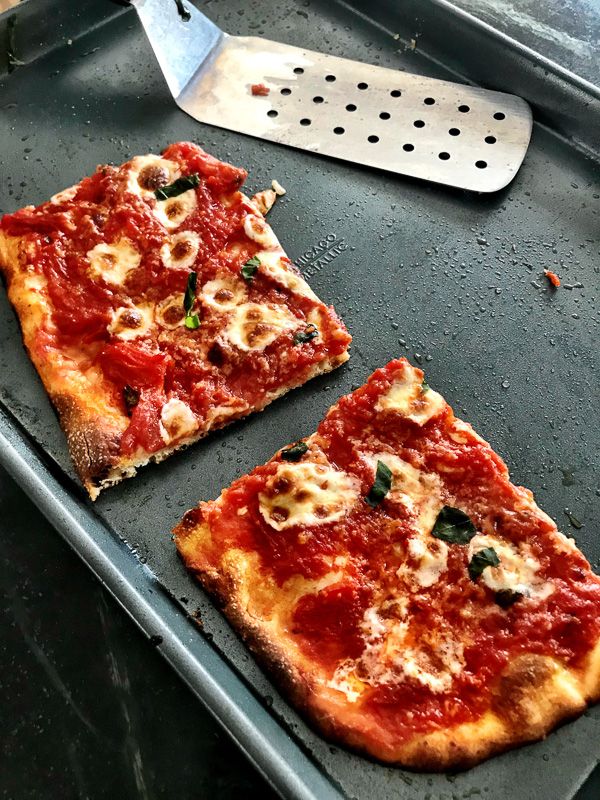 My first exposure to a pizza called a Grandma Pie was at a local pizzeria here in Monroe, CT, Julian's. The Grandma Pie at Julian's was like a Sicilian, rectangular with a thick fluffy crust, but topped with fresh mozzarella and a garlicky sauce. Since then I have seen Grandma pies in New York pizzerias that while rectangular and cooked in an oiled sheet pan like the Julian's Pie, actually had a thin crust. I really liked this thinner style, the crust was nice and crispy on the edges, with a nice chew to it in the middle.
After a few Grandma Pie slices, the wheels started turning in my head. Cooking pizza at home can be a challenge because home ovens don't get as hot as commercial pizza ovens or wood burning ovens. So, getting the crust done the way you like while not over-cooking the toppings and cheese can be a challenge at home. It wouldn't be the same as a regular round pizza but I was fairly certain I could duplicate the Grandma Pies I had in pizzerias at home. It turned out I was right, on my first try I got a crust that was crispy on the edges with a nice chewy consistency that held up to the toppings.
Don't get me wrong, it's not a replacement for a Neapolitan, New York or New Haven style pizza, but it is a pie style that you can duplicate pretty easily at home with consistent results every time. Pretty tasty too! It's also great for entertaining. That doesn't mean that I am not going to keep trying to perfect the other styles, it's just nice to know that I have one ace in the hole.
Print
Grandma Pie Recipe
---
Total Time:

55 mins

Yield:

2

pizzas

1

x
Neo-Neopolitan Pizza Dough, made through step 3 but divided into 2 balls.

1

28oz can of Imported Italian tomatoes, preferably San Marzano (look for the DOP)

4

cloves of garlic, minced
salt & pepper to taste

4 tablespoons

extra-virgin olive oil

6

fresh basil leaves
freshly grated Parmigiano-Reggiano cheese

1/2

pound fresh mozzarella, cut into small cubes
---
Instructions
About 90 minutes before you plan to bake the pizzas, place the desired number of dough balls on a lightly oiled work surface. With oiled hands, stretch and round each piece into a tight ball, then place them on a pan that's been lightly oiled (preferably with olive oil). Loosely cover with plastic wrap and let rest at room temperature until ready to bake.
Pre-heat the oven to 525F, or as high as the oven will go.
In a large bowl crush the tomatoes well with your hands. Stir in the garlic, salt, pepper and 2 tablespoons of the olive oil. Tear up 3 of the basil leaves into small pieces and add to the tomatoes.
Brush a 17×12 baking sheet with extra-virgin olive oil. Place one of the balls of dough on the pan and flatten and stretch it until it reaches all 4 sides of the pan. If you are having trouble making it stretch out let it rest 10 minutes and then stretch some more. Typically it takes two10 minute rest and stretches for me.
Spread the crushed tomatoes on the pie leaving about 1/2 and inch on each side.
Sprinkle Parmigiano Reggiano on the sauce, then dot the pie with cube of mozzarella, drizzle one tablespoon of extra-virgin olive oil over the top of the pie and place the pan in the bottom half of the oven.
Cook until the crust is browned and cheese melted, about 20 minutes per pie.
Tear up the remaining basil leaves and scatter across the top of the pies, slice into square or rectangular slices and serve.
Prep Time:

15 mins

Cook Time:

40 mins