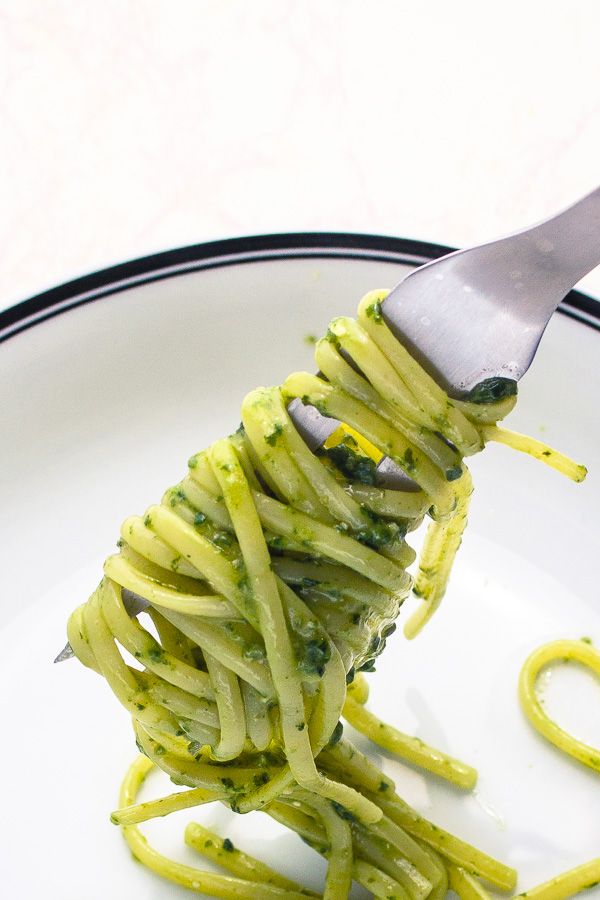 In modern times the term Pesto has become a generic name for just about any combination of herbs blended with garlic, olive oil, nuts and cheese. However, the original Pesto is from Genoa in the Liguria region of Italy and is basil based and contains pignoli (pine nuts). Some people are turned off by the pignoli and may not want to use them, but for me they have always been as essential as the basil.
I remember once a few years back at our local farmer's market, there was one vendor that specialized in the hard sell. They would offer you a "special deal" if you bought 2 balls of mozzarella instead of one. Always trying to talk you into buying that one extra thing. It typically doesn't bother me, but once I bought some bread and mozzarella from them, and after trying to convince me to buy extra mozzarella and bread the guy asked me "Do you want some pesto to go with that?" I politely declined saying that I like to make my own pesto. Even after I paid he was undeterred, saying "Are you sure? No pignoli in this pesto!" As if that was a big selling point. As I walked away I responded "Then I really don't want it! It's not Pesto without pignoli."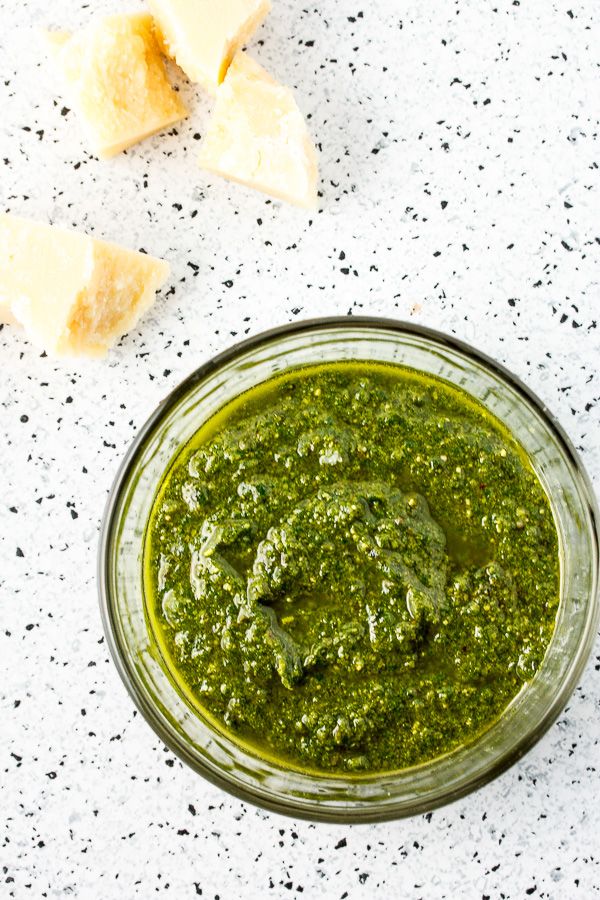 I have mellowed out since then and I try not to be quite so inflexible any more. After all, someone might look at my recipe and criticize it for using a food processor and not a mortar and pestle, which is the traditional method (the name pesto actually comes from the word pestare, which means to pound or grind). You may have a really good reason for leaving out the pignoli (allergy, for instance), but that doesn't mean you can't take advantage of some nice fresh basil in the summer and enjoy this classic pasta dish.
Trenette is a narrow, flat pasta that is common in Liguria, but if you can't find it, linguine is always a good substitute.
Print
Trenette al Pesto
---
Prep Time:

15 mins

Cook Time:

15 mins

Total Time:

30 mins

Yield:

4

1

x
2 cups

tightly packed fresh basil leaves

1/2 cup

plus 2 tablespoons extra-virgin olive oil

1/4 cup

of pine nuts
pinch of salt

2

cloves of garlic chopped fine

1/2

pound of trenette pasta or linguine

1/4 cup

freshly grated parmigiano-reggiano cheese

2 tablespoons

freshly grated pecorino-romano cheese
---
Instructions
Put 1/2 cup of olive oil, pine nuts, garlic and a nice pinch of salt in a food processor or blender, start mixing and add the basil a few leaves at a time processing to a creamy consistency.
Bring a large pot of liberally salted water to a boil. Add the trenette and cook until al dente.
Meanhile, in a large saute pan add 2 tablespoons of olive oil and 6 tablespoons of pesto, turn heat on low and heat through.
Reserve 2 tablespoons of water from the pot then drain pasta and add to saute pan with pesto, and turn the heat up to medium.
Add the cheeses and the 2 reserved tablespoons of pasta water and stir vigorously, coating the pasta completely with the sauce.
Transfer the pasta to individual serving plates and serve immediately.