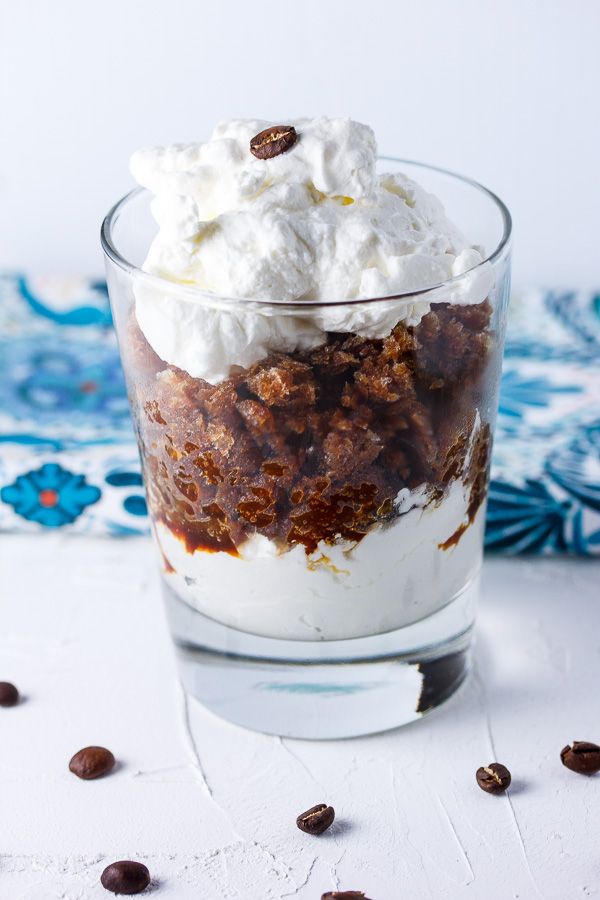 Summer is flying by and I am feeling a little self-imposed pressure to get in all of the great Summer recipes I had planned on. I may not get them all in but it really would have been a shame if I didn't make this espresso granita with whipped cream. This is a really great combination, with the sweet cream balancing out the intense coffee flavor. In my Granita di Limone post I mentioned how in Sicily they have granita for breakfast, but this makes for an awesome dessert too. Or, try it on a hot day instead of an iced coffee, I think you will find it is much more refreshing.
Print
Granita di Caffè con Panna Recipe
---
1 cup

of water

1/2 cup

plus 2 tablespoons granulated sugar

1 cup

freshly brewed espresso

1 cup

heavy cream
---
Instructions
Combine water and 1/2 cup of the sugar sugar in a small sauce pan over low heat and stir until sugar is dissolved, making a simple syrup. Remove from heat.
Stir the freshly brewed espresso into the simple syrup.
Transfer the mixture to a flat metal pan and pace in the freezer. Every 30 minutes take the mixture out and stir it up with a fork, breaking up any ice crystals that form. Do this for 3-4 hours. As the mixture gets more frozen you will be scraping the ice with the fork to mix it up.
If you want a granita that is more slushy to be eaten immediately, stop after 3 hours. If you want one that is more granular that will store for a couple of days in the freezer go to 4 hours scraping the frozen mixture with the fork to create ice crystals.
Combine the heavy cream with the remaining 2 tablespoons of sugar in a large bowl and beat until soft peaks form.
Place a little of the whipped cream in the bottom of a serving glass, spoon the granita in, then top with a lot more whipped cream.
Recommended for This Recipe: