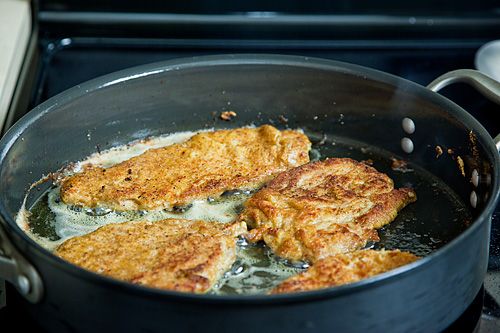 Veal Milanese is one of those recipes that you should be able to find on a site called The Italian Chef, but inexplicably it has been absent here up until now. I decided to rectify this, but have been struggling with a write-up to go along with the recipe. Everything I came up with about cutlets being a staple of Italian cooking and the most well known preparation being this classic from Milan just seemed dry and boring. So I thought I would just share a cutlet story from one of my Italy trips.
Years ago I took a trip to Sicily with my cousins Sal and Francesca. We have family in a town called Francavilla di Sicilia which is between Catania and Messina. Sal and Frances have family on their mother's side just outside Catania, and since that is where we flew into we spent the first few days of the trip there before continuing on to Francavilla.
On our first day, Sal's aunt made pasta with a cream sauce. They gave me a bowl the size of a family style serving dish, which had to have one pound of pasta with cream sauce in it. I tried my best to eat it all but could only get three quarters of the way through. After much interrogation about whether I liked it or not I was finally able to convince them that I was just full.
However, from that point on all I heard was how I did not eat much. I would be introduced to people, "Questa e Filipo, non mangia troppo (This is Phillip, he doesn't eat much)." When we got to Francavilla, the first words out of my aunt Gaetana's mouth were, "What's the matter, why don't you eat much?" When I called back to America and talked to my Mother she said, "I hear you're not eating much." I was branded!
Knowing that we would be spending another day in Catania at the end of the trip, I was determined to rid myself of this stigma. The big day came, and the main course was veal cutlets. They put cutlets in front of me, I ate them all. They asked me if I wanted more, I said yes. The only problem was I was so focused on redeeming myself that I was not paying attention to what was going on at the table. I finished the ones in front of me and they asked me if I wanted more again. I said yes again.
All of a sudden to my horror I saw Sal's aunt get up from the table, put a pan on the stove and start breading more cutlets! I looked down on the table to see the serving platter empty. I looked back up and started to object, but they wouldn't hear it. Everybody sat there and waited while she cooked more cutlets for me. I had gone from an American who does not eat to a cafone in the span of two weeks.
Luckily, this incident didn't leave me emotionally scarred me so bad that I can no longer enjoy delicious cutlets like these.
Print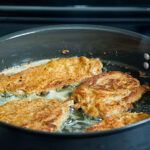 Veal Cutlets Milanese Recipe
---
Total Time:

25 mins

Yield:

4

1

x
1

pound veal cutlets, pounded thin

2

eggs

1 teaspoon

salt

1/2 cup

flour

2 cups

bread crumbs

2 tablespoons

butter

2 tablespoons

olive oil
---
Instructions
Lightly beat the eggs with the salt in a deep dish and spread the flour and the breadcrumbs out on separate plates. Dredge veal slices in flour shaking off any excess. Then dip in the egg and the bread crumbs making sure both sides are well coated with bread crumbs.
Heat olive oil and butter in large saute pan over medium heat. Add the breaded cutlets to the pan without crowding (if you have to you can work in batches). Cook, turning once for about 6 minutes until golden brown and crispy. Transfer to warm plates and serve.
Prep Time:

15 mins

Cook Time:

10 mins
Recommended for This Recipe: